When finally the time comes and you need an appliance serviced but it is no longer covered under warranty, there will be the dreaded bill to face. With a little forethought, the shock won't be quite so hard to take.
The first in these charges is the ominous "service charge". Even before a technician steps into your door, you will be expected to part company with a fair amount of cash. Although many consumers think this goes straight into the technician's or employer's pocket, there are some hefty bills to pay just for the servicer to reach your door.
Transportation is the major reason for a service charge. Initial vehicle cost, fuel, maintenance and insurance are considerable expenses and only partially tax deductible. Don't be naive to think every expense it written off 100% at tax time, because they aren't.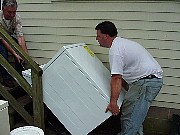 In many cases you could save the $50-80 service charge by lugging your broken washer or refrigerator to the nearest local appliance service depot yourself but consider how much it's worth not to have to? I'd say in most cases when you look at it that way, the fee is well within reason.

Travel time must also be taken into account, the technician or employer must make up for the time required to get to customer's home. Who would want to put in an 8 hour day and only get paid for five? How many employers can afford to pay an employee 8 hours wage but only collect for the time the technician can actually be in someone's home preforming the work? It all has to even out in the end.
The outlay incurred for stock parts is also very expensive. You want to have a technician repair the appliance on the first tip in most cases and that means carrying a wide assortment of replacement parts with them. Industry specific tools and materials that are required to be 'on hand ' are also costly.
The cost of rent and utilities for an office or a shop is often incurred, wages for office personnel or an answering service must also be paid. Another big expense is the telephone and Yellow Page advertisement so you can find them when needed.
In the end, there aren't too many appliance service technicians getting rich preforming home service (see U.S. Department of Labor: Bureau of Labor Statistics: Home Appliance Repairers). Most of the job satisfaction comes from utilizing your wits to solve problems, meeting a variety of people daily and not being stuck in an office 5 days a week.