Many consumers today are restoring older homes and seeking to complete their projects with vintage look appliances. There are numerous avenues available to pursue if you are one of them.
This page may contain affiliate links.
For more information visit our FTC disclosure page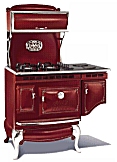 Elmira Stove Works is one such company that makes reproduction vintage look appliances. Designed to meet todays safety standards, Elmira range models feature such modern conveniences as convection, self cleaning oven and electronic controls. Cooktop available in radiant under glass, electric solid cast iron disk elements or sealed gas burners.
Available are striking colours such as Cayenne Pepper Red (shown), Jewel Green, Liberty Blue, white and of course black, models can fit in with any decor you have in mind.


Retro-look microwave ovens are available in red, aqua and mint green to match many room decors.

Elmira has its Northstar line of 1950's look retro refrigerators. Models include French door, top freezer and bottom freezer models in 5 sizes that are available in 8 colours - Robin's Egg Blue (shown), Flamingo Pink, Mint Green, Buttercup Yellow, Candy Red, Quicksilver, white and black. One 11 cu.ft. model includes a draft beer dispenser in the door.

In early 2004 Elmira added a matching 1950's look Retro Range. The 50's style range sports an analog clock for authenticity, but is self-cleaning, has delayed start baking and even offers a convection option. Models available include electric, gas and a dual fuel model. A matching vent hood is also available.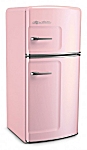 For another take on the old is new again theme, Big Chill markets a whole line of retro-look modern kitchen appliances including top freezer, bottom freezer and an under counter refrigerator, a gas range, electric built-in oven, dishwasher and microwave oven. You can select from eight standard colors or 200 custom colors.
Until recently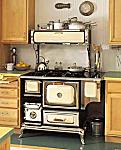 Heartland also used to make modern, antique looking ranges available in an assortment of colours.
Models included gas, electric, wood burning and dual fuel with hidden electronic controls, self cleaning, convection oven and electronic gas ignition. Refrigerators were also available from Heartland which had matching panel inserts installed over modern fridges.

Not to be out done, European manufacturers have also gotten into the act. Brands like Ariston and Hotpoint UK have American 50's style refrigerators. Perhaps the most prolific is Smeg with a single door, a top freezer and a bottom freezer model available in a number of bold colors. Their 9 cu.ft. model is available in the USA at AJ Madison.


UK stove manufacturer AGA also makes retro style gas ranges in a number of brilliant colours in models with two, 3 or even 4 ovens! They have matching refrigerator models as well. AGA products are now also available in North America.


UK retailer Robeys sells Italian fridge maker Meneghini's wooden fridge-freezers. With eight styles to choose from, they can be easily customized to match any kitchen's decor. The La Cambusa model (shown) has space to incorporate a coffee maker, fitted pantry, microwave, steam or multi-function oven!
Old is New again?
There is also the possibility that you can find and/or restore a real older appliance. There are a number of firms across the United States that can assist you in this area.
The Antique Stove Hospital sells and restores antique wood, coal and gas stoves. Gas ranges are rebuilt to new condition with the addition of safety devices to meet modern codes.

Jowers Antique Appliances specializes in restoring and customizing antique and vintage refrigerators. Custom colours to fit your decor are readily available and can even add unique design concepts to fridge exteriors. Purchase ready finished products or choose an 'Unrestored Treasure' from their stock and have it finished that way you like!
For links to Web sites dedicated to restoring old appliance and repair parts resources for them, see the Appliance411 'Appliance Links' section under "Restoration".