Helpful parts, accessories and links dealing with room air conditioners.
This page may contain affiliate links.
For more information visit our FTC disclosure page

Mount your window air conditioner properly and securely with A/C Safe's installation kits.
Heavy gauge steel with baked on epoxy finish plus stainless steel hardware ensures good looking, long lasting performance. Unique bubble level insures installation at the correct angle every time.
A/C Safe window air conditioner mounting kits available for several unit weights including up to 80 or 160 pounds.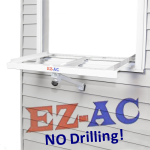 EZ-AC window air conditioner mounting kit reduces the risk of the A/C falling out of the window. Stainless steel hardware fasteners, weather resistant powder-coating finish. Fits windows with a minimum width opening of 23" and a maximum width opening of 41".
NO drilling required!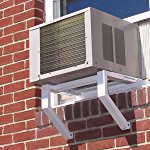 TopShelf window air conditioner mounting bracket installs in minutes and requires no fasteners, hardware, tools or drilling. Bracket works with single or double hung windows ONLY. (Does NOT work in slider, crank out or casement windows). Adjustable for different window widths, from 24-38 inches wide.
NO drilling required!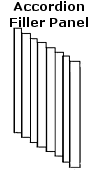 Air conditioner side curtains often become brittle with age, cracking and leading to air leakage. Replace broken, cracked or discolored accordion filler panels with 'universal ' cut to fit replacements.
This universal kit can replace existing accordion panels measuring up to 21 inches by 12 and come 2 per package and include installation material.


Keep your air conditioner working its best by cleaning or replacing the filter behind the front grill frequently. This 24 by 15 inch cut to size replacement filter will fit most models that did not originaly have an attached molded, rigid plastic frame.


The fan motor on air conditioners will need to be replaced occasionally. These motors are so varied that finding an alternate to the factory replacement is usually very difficult, if possible at all. You can help prevent motor failure by oiling serviceable motors with an appropriate lubricating oil each season.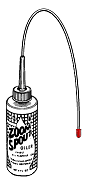 Many motors used in air conditioners have oiling ports that should be oiled twice a year, once each year before the unit is installed and once before winter storage.
The 'Zoom Spout' oiler is perfect for this since the wax free oil ensures that the motor bushing's pores do not get clogged and contribute to premature component failure. The retractable 8 inch spout helps you get to all those hard to reach places like the oiling ports found on many larger motors and the motor bushings found on smaller ones.
Air Conditioner Capacitors

There are two critical specifications that need to be identified when looking to replace an air conditioner's fan or compressor run capacitor, the voltage and the capacitance rating in microfarad (uF or MFD). The physical size and shape (round/cylindrical or oval) is irrelevant except for mounting considerations and you will often find newer capacitors considerably smaller then old ones of the same rating.
As a replacement you can use an alternative of a higher voltage rating without any problems but the capacitance should be within 10 percent of the original but an exact replacement is always best.
Some models may utilize a 'dual' capacitor where the compressor and fan motor capacitor are built into one. On this type you will see 3 groups of terminals across the top of it. There will be one set of common terminals, one group for the fan motor and another for the compressor wiring.

The common terminals on a dual capacitor will usually be indicated with the letter "C" near the associated terminal set, the fan side may or may not be indicated. The compressor will almost always be indicated with the word "herm" (short for hermetic) indicating part of a hermetically seal system (which the compressor is part of).
Dual capacitors are usually considerably more expensive to replace than single purpose ones.
Air Conditioner Controls

Mechanical (non-electronic) room air conditioner thermostats come in many shape and sizes. There are typically 2 mechanical types:
Hydraulic, which have a capillary tube (sensor bulb) that mounts in the air stream (usually in front of the evaporator coil) to sense the air temperature and
Bimetal, that have an internal bimetal disk or hydrolic air-coil that reacts to the change in temperature where the thermostat itself is situated.
Although there are some adaptable (universal) replacements that are available, to ease in installation and keep the original appearance of the appliance, you should always try to use the original factory replacement whenever possible. However, on older models where finding original replacement part may not be possible, a universal replacement may be an alternate choice.

Selector switches also come in several styles: rotary and push button. It is usually very difficult to find any kind of after market replacements. In this case, the genuine factory replacement part will likely be your only available option when replacement becomes necessary however the link below lists some universal rotary type selector switches that may work if no original is available or can be located.
Related Links
Zoom Spout Oiler

A/C Safe 80 lb A/C Window Installation Bracket
A/C Safe 160 lb A/C Window Installation Bracket

EZ-AC Window A/C Support Bracket - NO Drilling Rrequired!

TopShelf Adjustable A/C Mounting Bracket - NO Drilling Rrequired!

Universal A/C Accordion Filler Panel Set

Universal Cut to Size Room A/C Filter

Room A/C Thermostats

Universal Thermostat, Long Sensor Bulb
Universal Thermostat, Short Sensor Bulb

Air Conditioner Parts at Repair Clinic

Appliance411 : Home Service: Myths about Air Conditioner